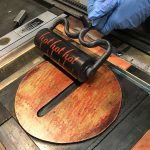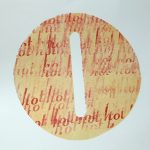 We are so happy to announce one more workshop: Brayer offset inking methods on large wood type with Stephanie Carpenter! In this half-day workshop, Stephanie, assistant director of the Hamilton Wood Type Museum, will help participants explore brayer offset inking methods. This is an inking technique that produces one-of-a-kind prints with a lot of depth and dimension. You will create interesting textures and patterns using proof presses, wood type, and brayers. The brayers become tools for transferring images onto large wood type or directly onto the paper. Expect to make multiple prints while learning tips and tricks for exploring a fun method of creating unique imagery.
And Saturday! Spend the afternoon with local legend Renegade Tours at two St. Louis landmarks: the Missouri Botanical Garden and the Central Library! Visit The Peter H. Raven Library's Rare Book Collection containing over 6,500 volumes dating back to the 15th century. Among the most prized are the first edition, first printing of Charles Darwin's On the Origin of Species and exquisitely beautiful works such as James Bateman's The Orchidaceae of Mexico and Guatemala. Then we'll visit Central Library's Rare Book Collections and tour the historic building designed by renowned architect Cass Gilbert and completed in 1912. Pre-registration is required! Sign up when you choose your workshops!
See you soon in St. Louis!
It's true! We're back with an exciting lineup of creative and crafty classes, and there are a few more surprises coming too. We can't wait to see you in St. Louis in October, so register soon because workshop space is limited!
You can also reserve a table at the Printers' Market without signing up for the conference; you'll do that through the registration page as well.