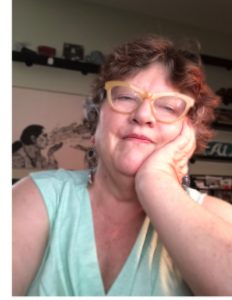 Keynote Speaker: artist, writer and photographer Susan E. King. Formerly a potter and sculptor, her work took a radical turn after she moved to Los Angeles to be part of the Feminist Studio Workshop and the Women's Graphic Center. She began printing books in 1975. She founded Paradise Press, a letterpress print shop. She became the studio director at the Women's Graphic Center, where she helped others design and print books, posters and postcards. Her artist bookwork is widely collected by libraries and museums, such as the Getty Center Research Library, Los Angeles, the Victoria and Albert Museum Library, London, and the Museum of Modern Art Library, New York City. She lives in Lexington, Kentucky.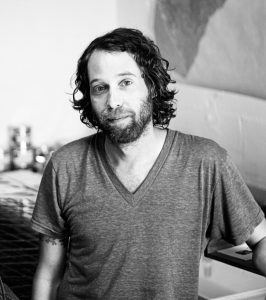 Chris Fritton
is the former Studio Director of the Western New York Book Arts Center. A poet, printer, and fine artist, Fritton has over two decades of experience writing, printing, and making his own books, in addition to collaborative efforts with other authors and artists. Recently he was selected as a panelist to judge the New York Foundation on the Arts Fellowship in Drawing, Printmaking, and Book Arts. He co-founded the highly-acclaimed Buffalo Small Press Book Fair with Kevin Thurston in 2007, and organized the fair solo from 2009-2016. Currently Fritton is wrapping up a project and accompanying book called 
The Itinerant Printer
, where he visited 137 letterpress print shops from 2015-2017.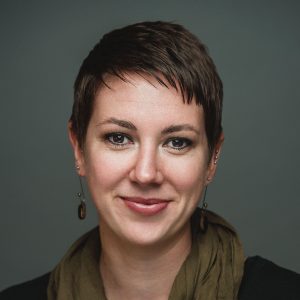 Megan Zettlemoyer
graduated with a BFA in Graphic Design from the Fashion Institute of Technology, NYC. After a few years of in house design jobs and agency life, she set out to find something more fulfilling. After a visit to the Heritage Press Museum in Lancaster, PA, and a lot of volunteer hours paired with classes up and down the east coast, she began
Typothecary Letterpress
in 2011 to satisfy her hands-on, creative desires. She is currently wears all the hats the business needs and has watched it grow steadily over the last seven years. She continues to do design work as well as teach at Pennsylvania College of Art & Design in Lancaster.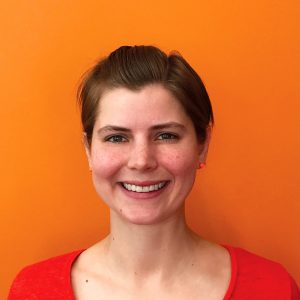 Lauren Emeritz
is a graphic designer, letterpress printer, and book artist. She creates prints and books by hand using a Vandercook press and wood type, including type she designs and carves herself. In 2016, the Library of Congress' Rare Books and Special Collections Division acquired her book, "Hand Carved Alphabet." In 2017, Lauren completed an internship in letterpress design at Hatch Show Print in Nashville, Tennessee, founded in 1879. Lauren holds a BFA in Graphic Design from the University of Delaware. She is the President and Creative Director of Abstract Orange, a graphic design firm in Washington, DC, and a letterpress associate at Pyramid Atlantic Art Center in Hyattsville, Maryland, where she teaches letterpress printing and design. You can see more of her work at
abstractorange.com
.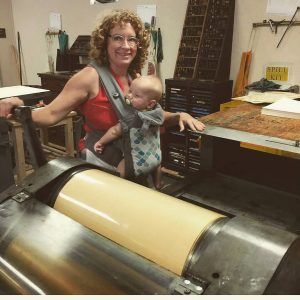 Jessica Peterson
is a letterpress printer, book artist and teacher. She operates
The Southern Letterpress
out of the Paper Machine in New Orleans' lower Ninth Ward, providing letterpress printing, design services, and workshops in printing and book arts. She holds a BFA from The School of the Art Institute of Chi- cago (1999) and a MFA from the Book Arts Program at University of Alabama (2009). She has taught book arts, typography and graphic design at University of Alabama, Mississippi University for Women, Purchase College, The University of Bridgeport, and Tulane University. She collaborates with book arts centers to create artists' book projects, in the past working with Small Craft Advisory Press at University of Florida; Short Twig Press at Longwood University; and the book arts center at Ringling College of Art. Her artists' books are collected in private and public libraries around the country.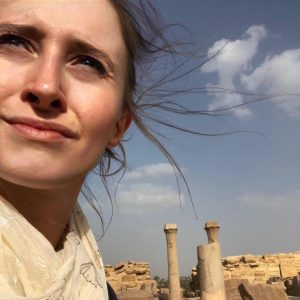 Meghan Paine
 is an Atlanta printmaker with a degree in literature from Harvard University. Her love for the history of the printed word led her to letterpress in 2009. She runs Iron Heart Press, printing with lead, wood, and photopolymer on a C&P 12×18, a C&P 8×12, a Vandercook 325G, a Vandercook SP-15, a Heidelberg 10×15, and still uses her very first press, an Adana 8×5.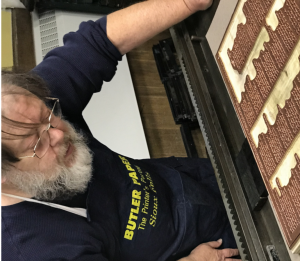 Arie Koelewyn is a hobby printer whose The Paper Airplane Press has been in existence for 41 years. His printing work is mostly ephemeral material for one or more of the hobby printing groups, plus the occasional poetry broadside or other interesting sidetrack. Exploring the fringes of letterpress, such as printing with unusual materials or techniques, is a strong interest. Arie teaches letterpress part-time at Michigan State University and at letterpress conferences.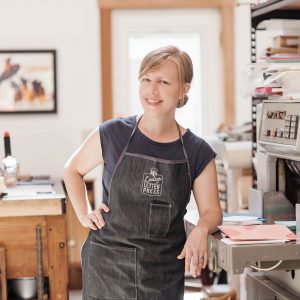 Kseniya Thomas is the owner of Thomas-Printers, a commercial letterpress (and 100% platen) print shop, and is the director of Ladies of Letterpress. She received her training as an intern at the print shop of the Gutenberg Museum in Mainz, Germany.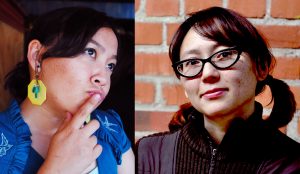 Angie and Michelle Dreher are a sister team who have been running Two Tone Press, a letterpress printshop in Kansas City, Missouri, since 2005. Their passion lies in creating bold, colorful work using Vandercook presses. Michelle, a graduate of the Kansas City Art Institute, has the art background and specializes in hand carved illustrations while Angie holds the place together with her business background. Together they craft designs for everything from wedding invitations to business cards to poster prints. Their latest endeavor has been to create Print League KC, a community printshop, in a effort to make printmaking more accessible to people of all levels.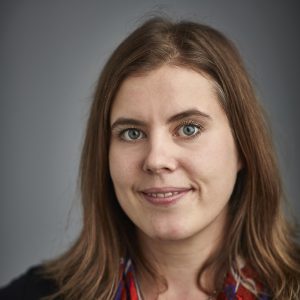 Megan Singleton is a practicing artist and educator located in St. Louis, Missouri. Her ecology-based work crisscrosses the boundaries of contemporary craft, combining sculpture, hand papermaking, installation, and digital applications.  She received her MFA in Sculpture from Louisiana State University and BFA in Photography from Webster University. She actively exhibits nationally and internationally, her work can be found in the collections of the Louisiana Art and Science Museum, the Robert C. Williams Paper Museum, as well as numerous private and corporate collections. She holds an adjunct position at Saint Louis University, teaching Fiber Arts. Megan also serves on the board of directors for the hand papermaking organization The Friends of Dard Hunter, as V.P of Membership and Development. She was the recipient of a $20,000 Artist Fellowship from the St. Louis Regional Arts Commission and in 2016 was the recipient of the Smelser Vallion Visiting Artist Fellowship in Taos, MN. In 2017 Singleton was selected as a Kingsbrea International Artist in Residence in Saint Andrews, New Brunswick. In 2017 she was also commissioned to create site-specific mural projects at the Granoff Center at Brown University for the T2 Art initiative at Lambert International Airport in Saint Louis.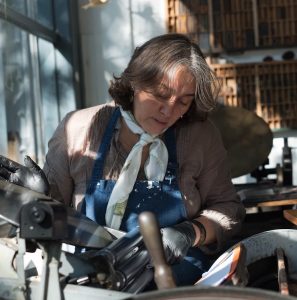 Catalina Rojas studied at the Rhode Island School of Design, and afterwards returned to her roots in Chile where she continued her studies and completed her BA in Design. While searching for inspiration for her thesis, she was given the opportunity to work for the Glimmerglass Opera in upstate New York. During this time, she was also volunteering at the New York State Historical Association where she was offered a scholarship to Cornell University for book binding and preservation. While at Cornell, she learned the art of book preservation, gained understanding of the structure and engineering of paper and became a avid box maker. She then began working on book restoration for the Metropolitan Museum of Art, the Academy of Medicine, and volunteered at the Center for Book Arts. Catalina found her niche in graphic design. While working at an advertising agency in Manhattan, she took a course in Parson's university where she learned about typography and was inspired by her teacher that was a font designer and very involved in letterpress. Ultimately, she founded Puro Papel which is now dedicated to branding and packaging design, utilizing old and new techniques.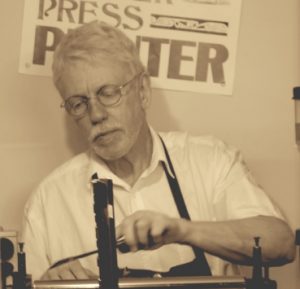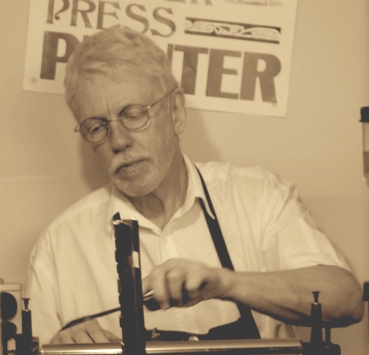 Graham Judd trained as a letterpress machinist in a rural town in New Zealand in the late 1960s. He retrained on offset as letterpress was phased out, later moving to Auckland to finally set up a small commercial print shop with offset and digital presses. In the 1990s, Graham got a hankering for his letterpress roots, eventually purchasing a Heidelberg platen. Since then, he has kept himself busy with letterpress printing at GTO Printers and making frequent trips to USA on letterpress adventures. Graham is passionate about letterpress and enjoys sharing his knowledge with others.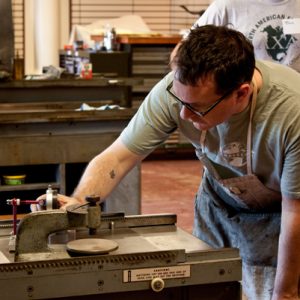 Paul Moxon
is a studio letterpress printer and independent educator (MFA, MLIS Alabama). He has lectured at over sixty book arts centers and universities through the U.S. and Canada. He is the author of
Vandercook Presses: Maintenance, History and Resources
and moderates
vandercookpress.info
. Paul is the website editor for the American Printing History Association and has held fellowships at Rare Book School and the Newberry Library. His letterpress work can be found in several public collections.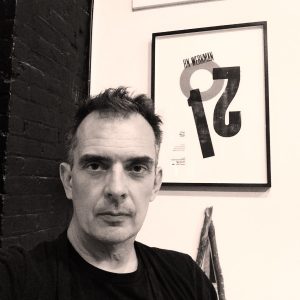 Chris Chandler
is the owner of
Neu Haus Press
, which was founded in 1996 when he acquired his first Vandercook Press in Venice Beach, California. Through the years, his love, talent, knowledge and collection of this vintage craft has grown. From 30 years working as a tour manager and sound engineer for bands he has had the privilege of sharing his passion of letterpress with musicians in collaborations with their art work. Now residing in Portland, Oregon, Chris is able to expand his printing portfolio and create letterpress art.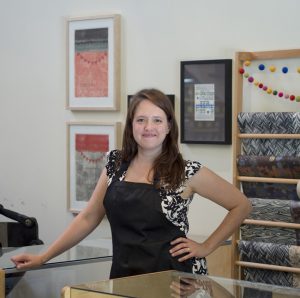 Margot Ecke is the owner of Smokey Road Press, a letterpress and bookbinding studio in Decatur, GA. She received her M.F.A. from the Rhode Island School of Design and her B.F.A. from Cornell University. She has a Professional Printing Certificate from the Tamarind Institute and a Certificate in Bookbinding from the North Bennett Street School in Boston. Margot has worked as a book conservator at the Carolina Rediviva Library in Uppsala, Sweden and was the Victor Hammer Fellow in the Book Arts at Wells College in Aurora, New York from 2004-2006. She is currently a professor at the Savannah College of Art in Atlanta