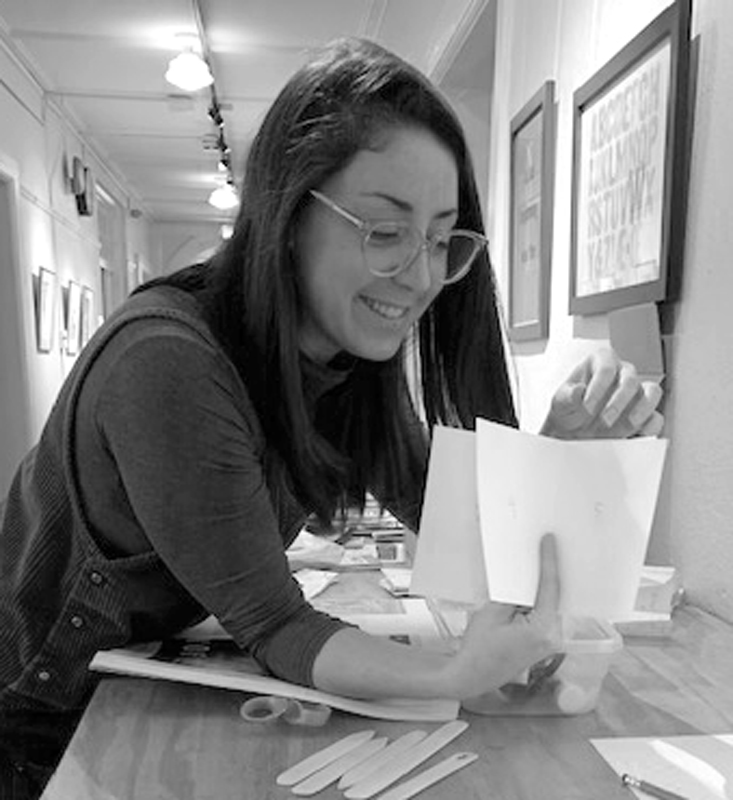 Leah Mackin teaching Printed Book Approaches: One Page Structures. Leah Mackin is a visual artist and educator who explores themes of reflection, response, and re-creation through performative publishing projects. Mackin holds an MFA from the School of the Art Institute of Chicago and a BFA in Printmaking+Book Arts from The University of the Arts. In 2021, she was awarded the Printery Book Arts Lab Residency and spent two (glorious!) weeks working in The Printery Book Arts Lab at Central Print on an artists' book project in response to the collections held by the St. Louis Mercantile Library.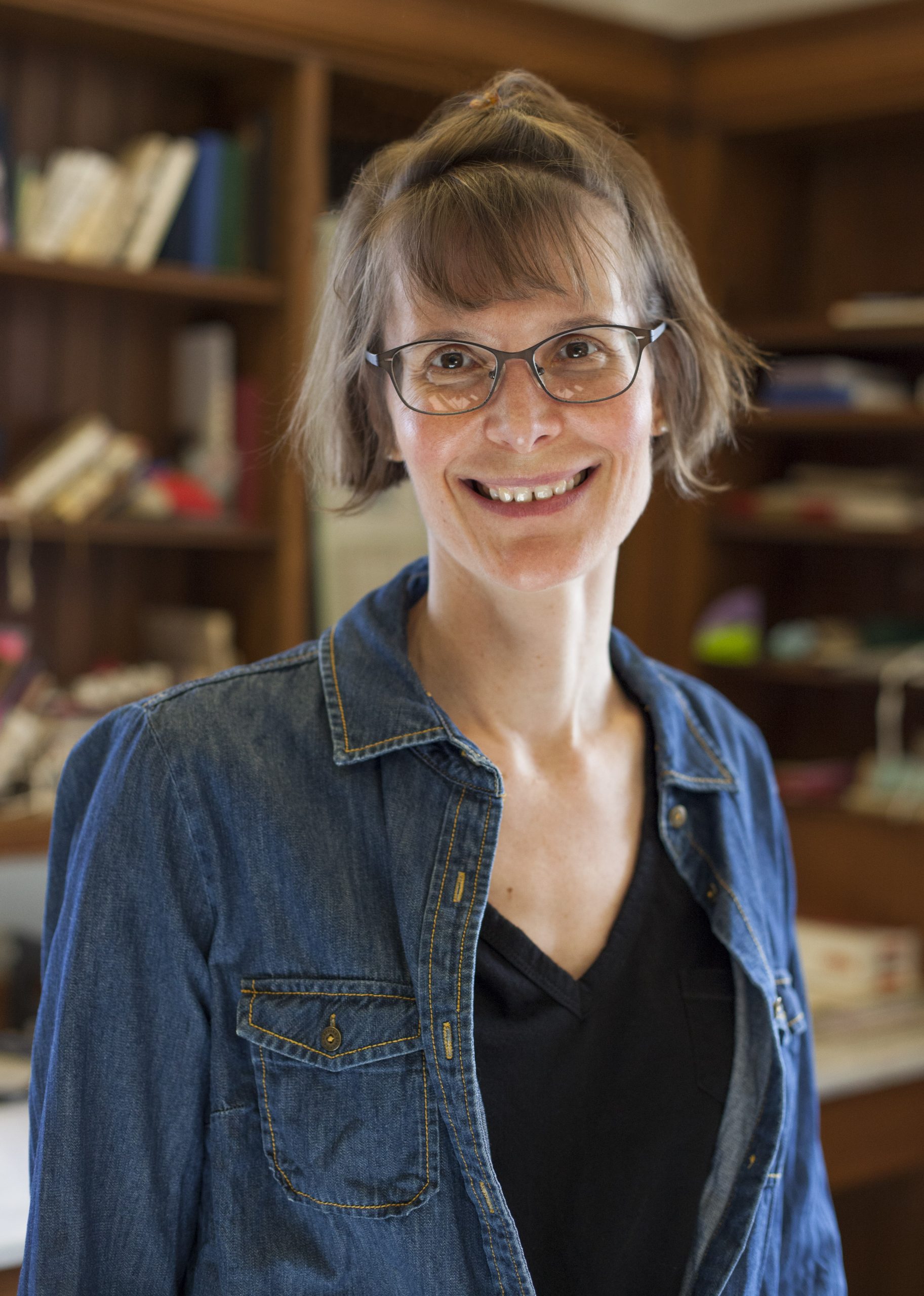 Katherine McCanless Ruffin presenting Our place in the printshop. Katherine M. Ruffin is the Director of Book Studies Program Lecturer in Art at Wellesley College. She has printed under the imprint of Shinola Press since 1994. Katherine teaches the history of 19th and 20th century typography and printing history at Rare Book School at the University of Virginia and history of the book at the School of Library and Information Science at Simmons University. She holds an MFA in Book Arts from the University of Alabama and a PhD in Library and Information Science from Simmons University.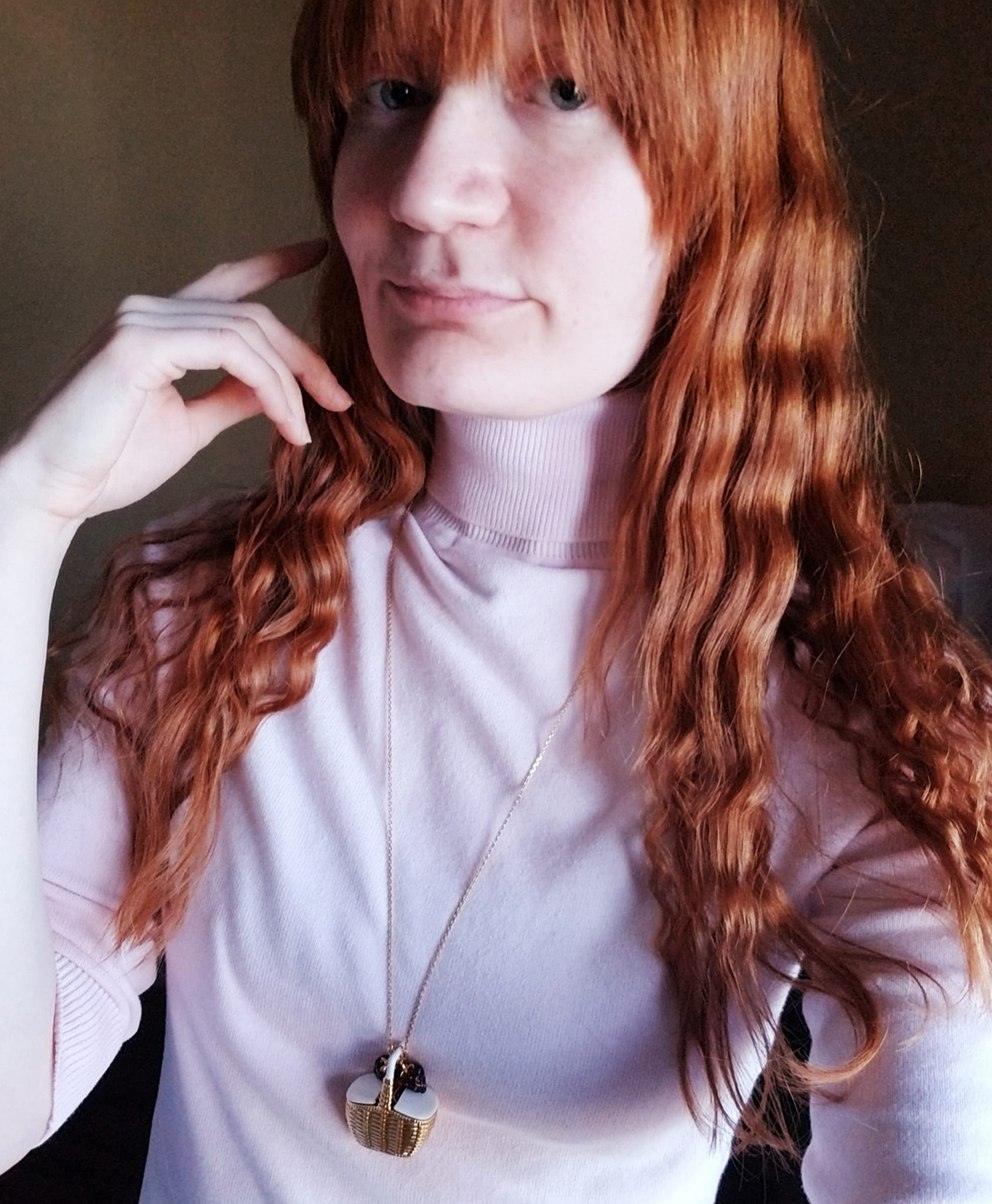 Rebecca Miller teaching Digital File Witchery: Rebecca is a pre-press specialist at Boxcar Press as well as a freelance illustrator & graphic designer based in Syracuse, NY. She is best known for her clean, minimalist illustrations and humor-themed body of work. She was first introduced to letterpress and traditional printing while in undergrad at Alma College, MI and has loved it ever since.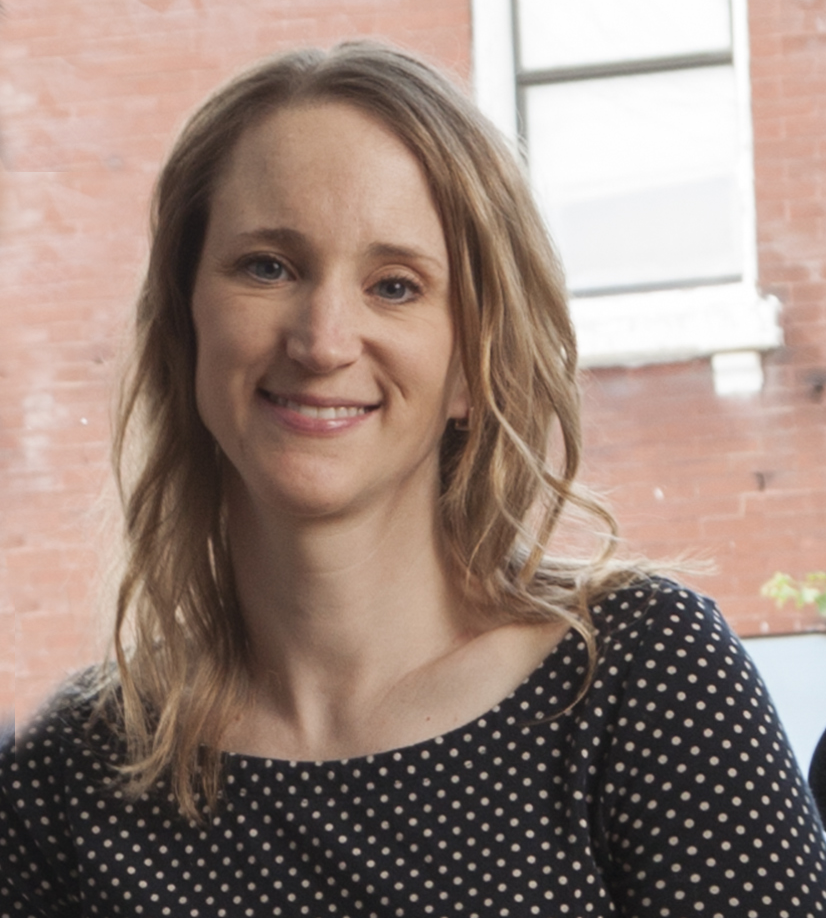 Amy Thompson teaching Edge Painting: Amy is an Assistant Librarian and the designer for the Book Arts Program and Red Butte Press at the University of Utah in Salt Lake City. She is also the proprietor of Paper Boat Studios. Formerly, Amy was the Manager of the Black Rock Press at the University of Nevada, Reno. She holds a BS in Studio Art & Biology from Willamette University and an MFA in Visual Art from Washington University in Saint Louis. Amy has taught book arts, typography, bookbinding, printmaking, painting, and a breadth of design courses at the college level. Amy has exhibited widely, and her work is held in multiple institutional collections.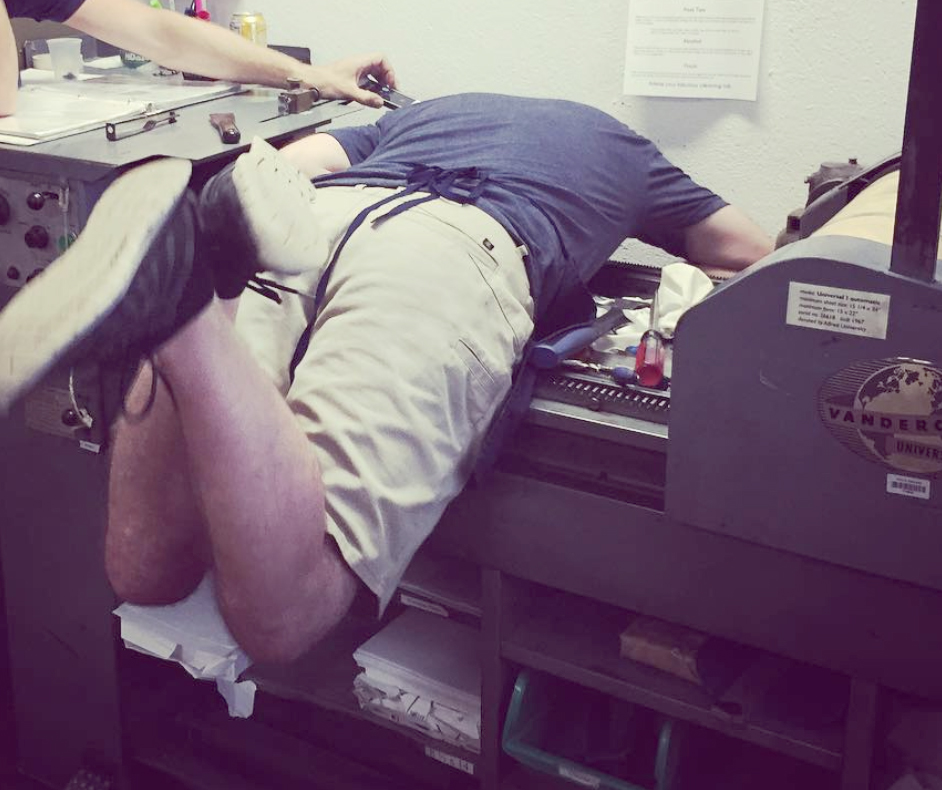 Paul Moxon hosting Anticipate Failure: Proof Press Q&A: Paul is a studio letterpress printer and independent educator (MFA, MLIS Alabama). He has lectured at over sixty book arts centers and universities throughout North America, is the author of Vandercook Presses: Maintenance, History and Resources, and moderates vandercookpress.info. Paul is the website editor for the American Printing History Association and has held fellowships at Rare Book School and the Newberry Library. His letterpress work can be seen in several public collections and at fameorshame.com.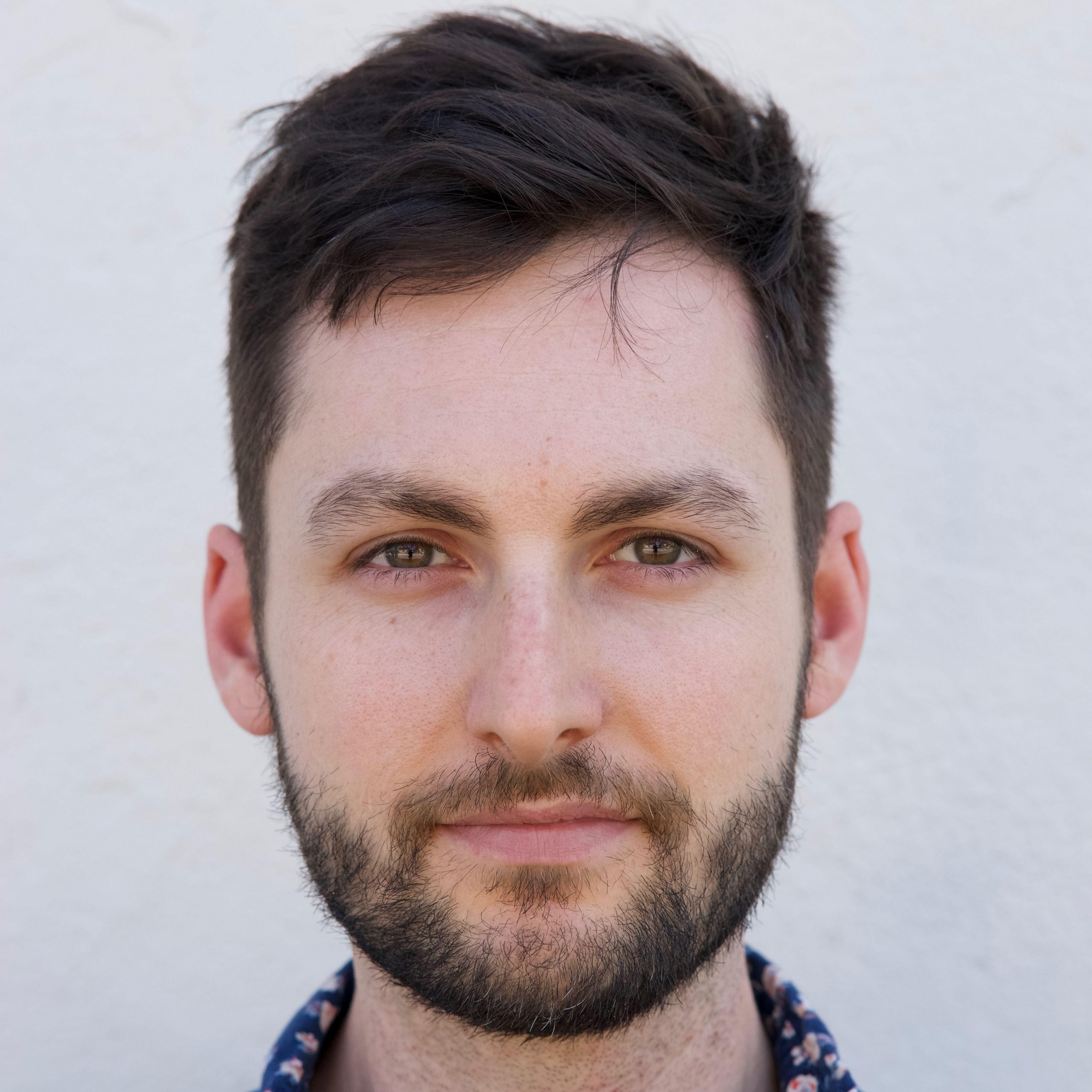 Brandon Gamm presenting PRIXEL: Printing with Pixels: Brandon is a graphic and web designer by trade and a product designer and printmaker by accident. An obsession with pixel art, modular illustration, and portable printing presses led him to create PRIXEL, a toy printing press that was officially released in 2021. He lives in Claverack, New York and works out of Purpose, a "functional anarchist" coworking/makerspace cooperative.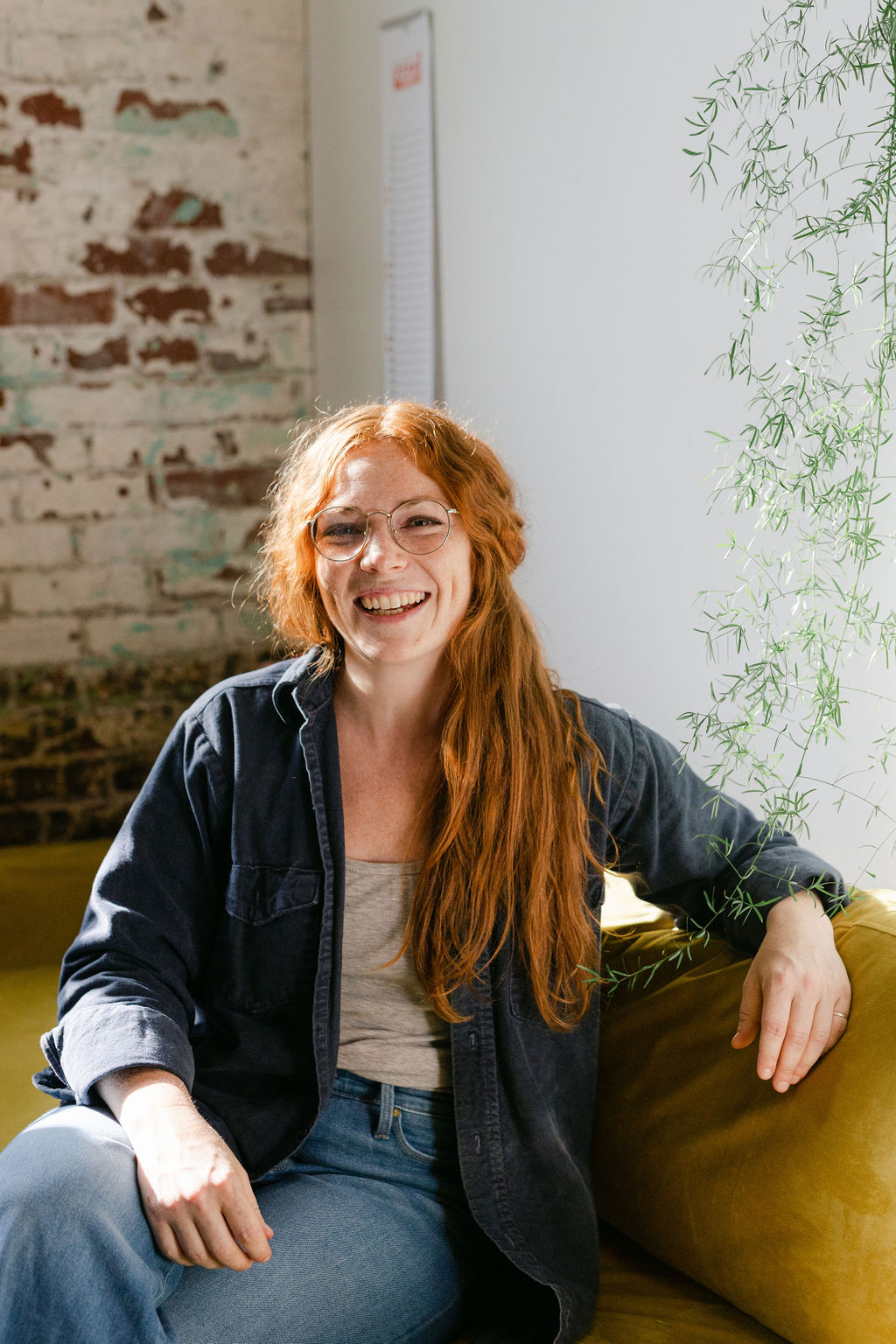 Lindsay Schmittle (Gingerly Press) teaching MDF instead of Linoleum! Gingerly Press is the printmaking studio practice of letterpress artist, Lindsay Schmittle. Lindsay discovered her love for old-school letterpress printing as a Visual Communications major at the University of Delaware. Jaded by the copious screen time and dull printing results of the digital design world, Lindsay found her sweet spot in the letterpress studio, at the intersection of design, illustration and hands-on craft. After honing her skills at various print shops post-graduation, Lindsay began her own venture under the name of Gingerly Press. She relocated across the state of Pennsylvania to expand her studio practice in Pittsburgh in August 2019. Inspired by her quiet time adventuring in the outdoors, Lindsay creates colorful, modern and sustainable letterpress printed artworks & products with vintage type and hand-carved wood & MDF blocks. Her wall art brightens your homes and empowers you to explore the outdoors more, appreciate nature's beauty, and adopt more sustainable living practices for a healthier planet. Each Gingerly Press product is printed on 100% recycled paper and plants a native tree through a Small Business Partnership with the National Forest Foundation.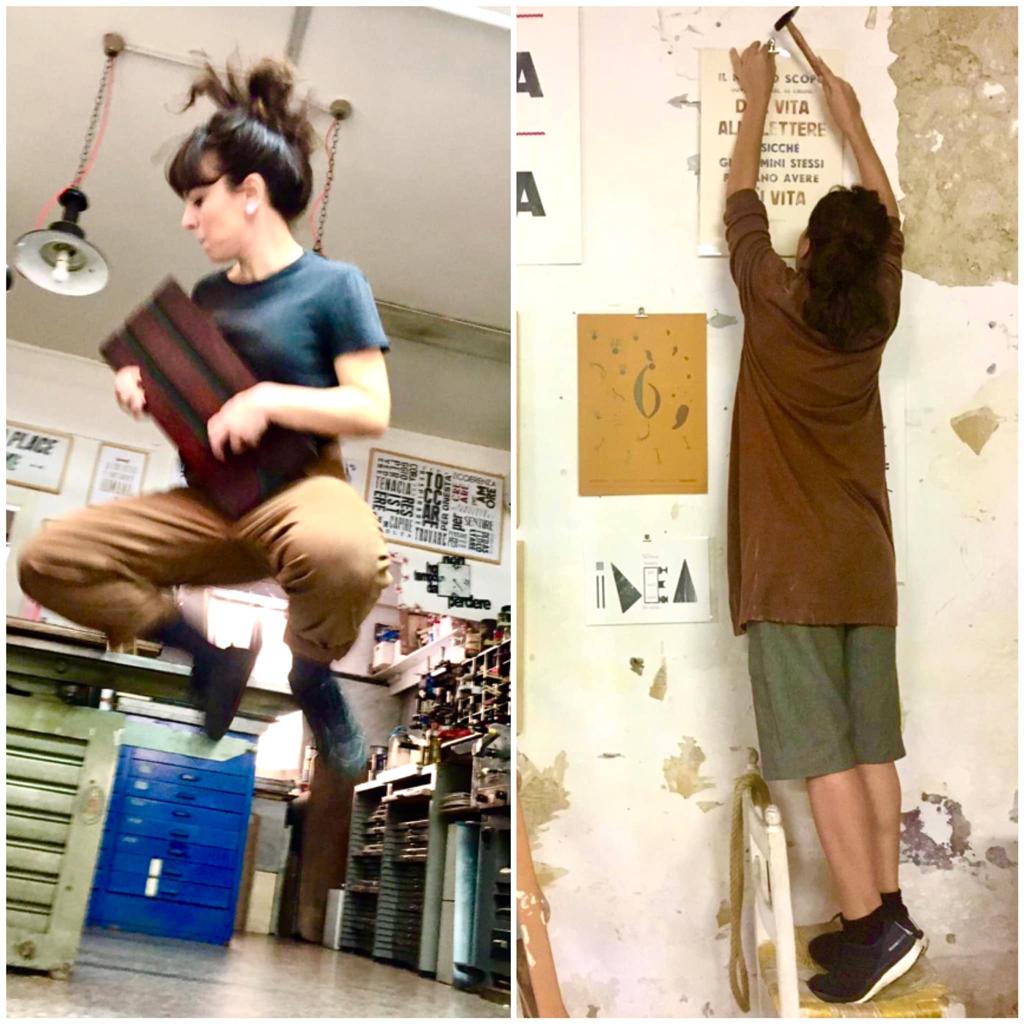 Francesca Colonia and Giulia Nicolai presenting from ITALY Festina lente – Make haste slowly Venice-Rome Back and forth: Francesca and Giulia run Betterpress Lab, a traditional and vintage letterpress studio in Rome. Betterpress Lab is a place open to the public interested in pursuing artistic research. With vintage tools and equipment, Betterpress Lab promotes the reinterpretation of the traditional techniques of typography, in an environment that shares knowledge and expertise.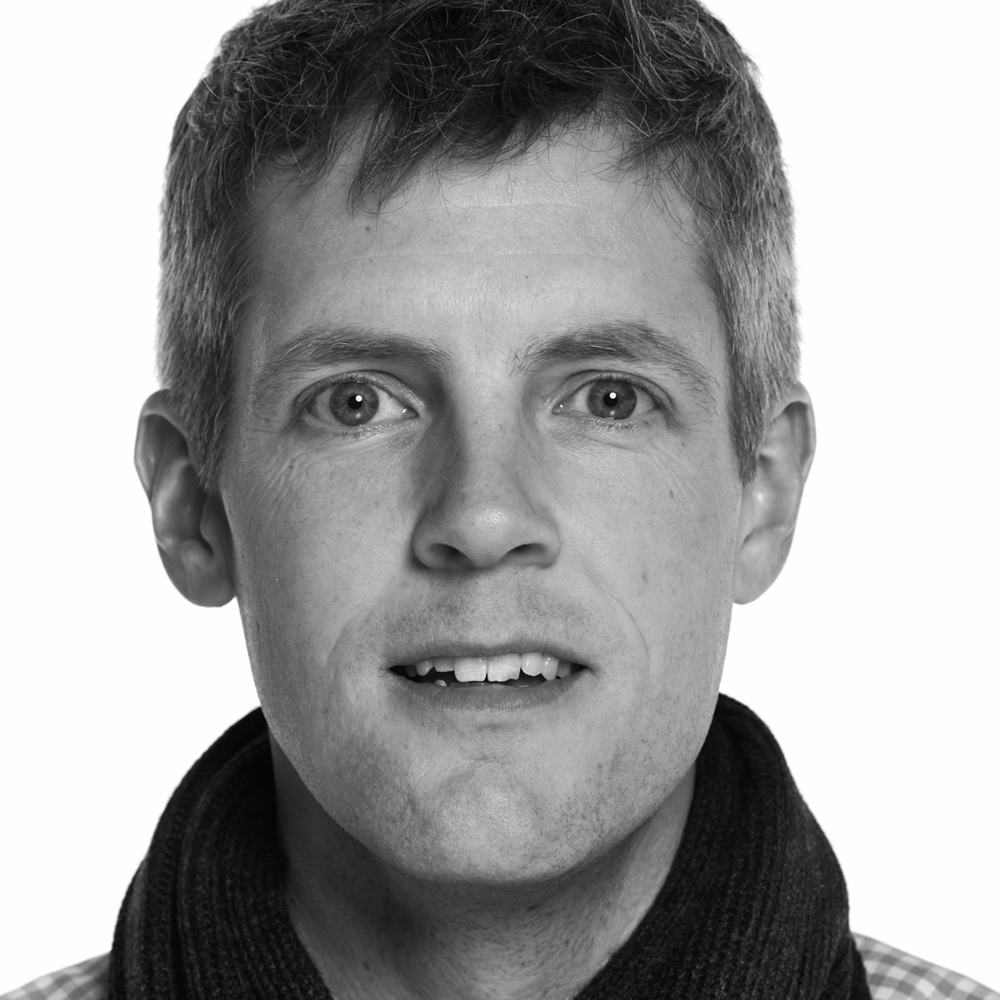 Craig Welsh teaching The Typographic Stylings of The Declaration of Independence: Craig has received recognition for typography design from Type Directors Club, One Show, Cannes Lions, Communication Arts, D&AD, etc. He has had work exhibited in more than fifteen countries and has been a featured speaker at Cooper Hewitt, Smithsonian Design Museum. His research has included projects reviving typography designed by Max Bill and Alvin Lustig, the latter of which he worked on with Elaine Lustig Cohen and is among the fonts (Lustig Elements) included in the Hamilton Wood Type Legacy Project. He is an associate professor and chair of the Communications M.A. program at Penn State Harrisburg.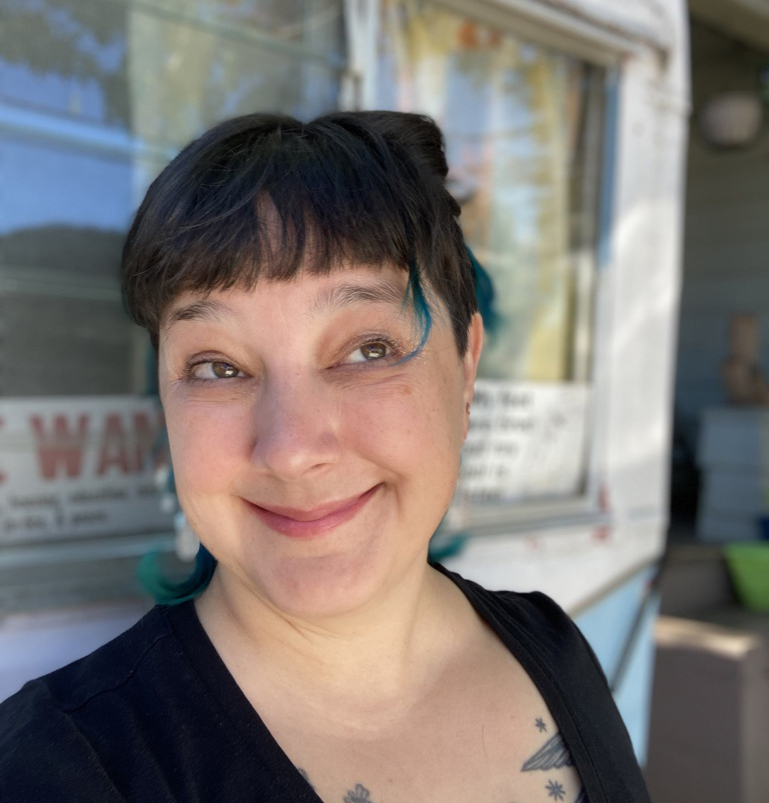 Hope Amico presenting Printmakers as Agents of Subversion: Letterpress and Social Practice Art: Hope is a visual artist, educator and writer. Since 2008, she has printed the Keep Writing project: a monthly postcard asking a question.ose Through her classes and artwork she encourages collaboration, communication and interaction. Formerly known as gutwrench press, she now resides in Portland, OR.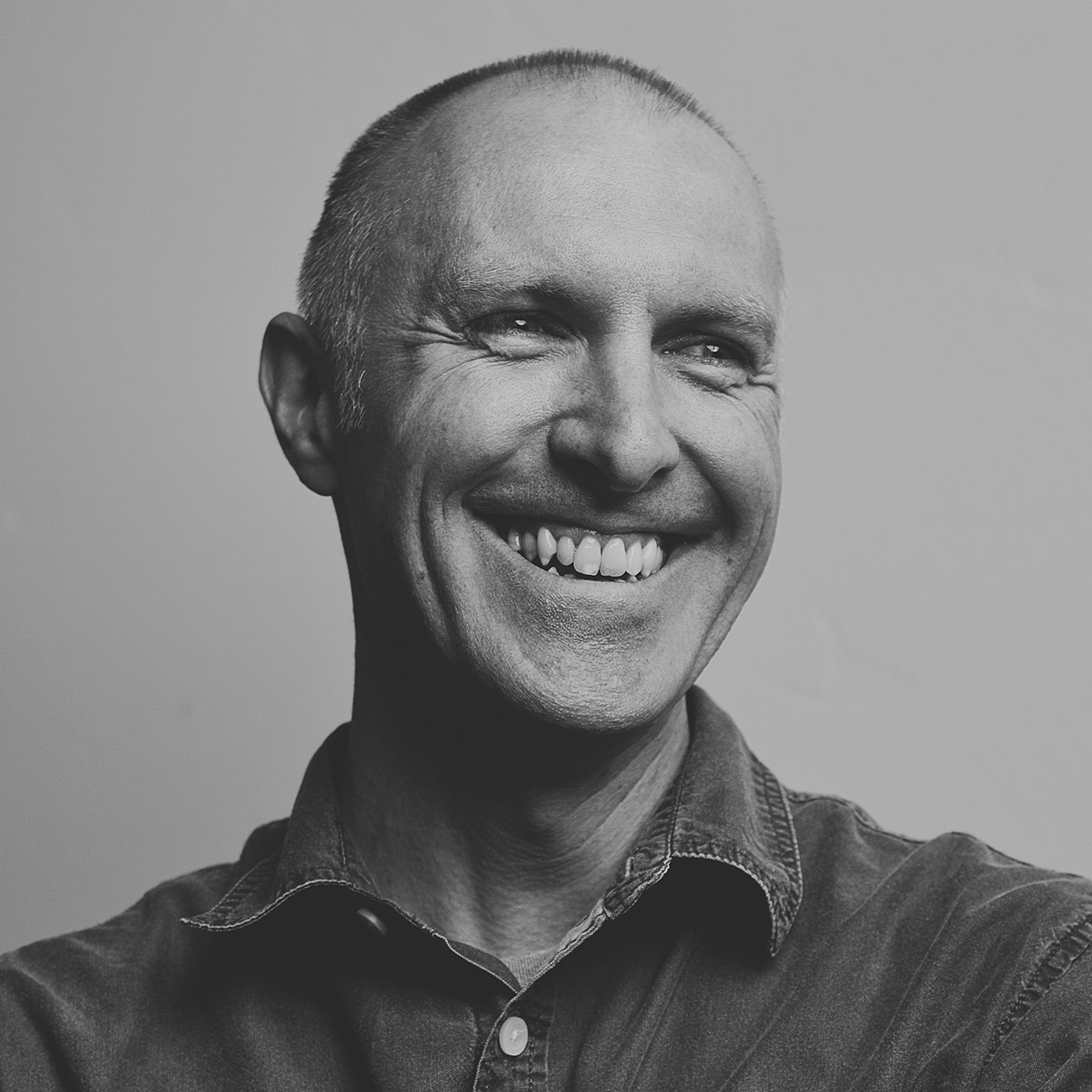 David Wolske teaching Experimenting with Abstraction: David is a typo/graphic designer, artist, and educator. His interdisciplinary practice combines the traditions of letterpress and printmaking with digital tools and design thinking. Wolske's work is exhibited and collected nationally and internationally. He is the IS Projects 2021 Exhibiting Artist Resident; a 2020 LHM Educator Fellow at the Hoffmitz Milken Center for Typography at ArtCenter College of Design; the College Book Art Association 2018 Emerging Educator; 2016 Visiting Artist at Hatch Show Print; and a 2014 Utah Visual Arts Fellow. His work is represented by Artspace111 in Fort Worth. He is currently an Assistant Professor in the College of Visual Arts and Design at the University of North Texas.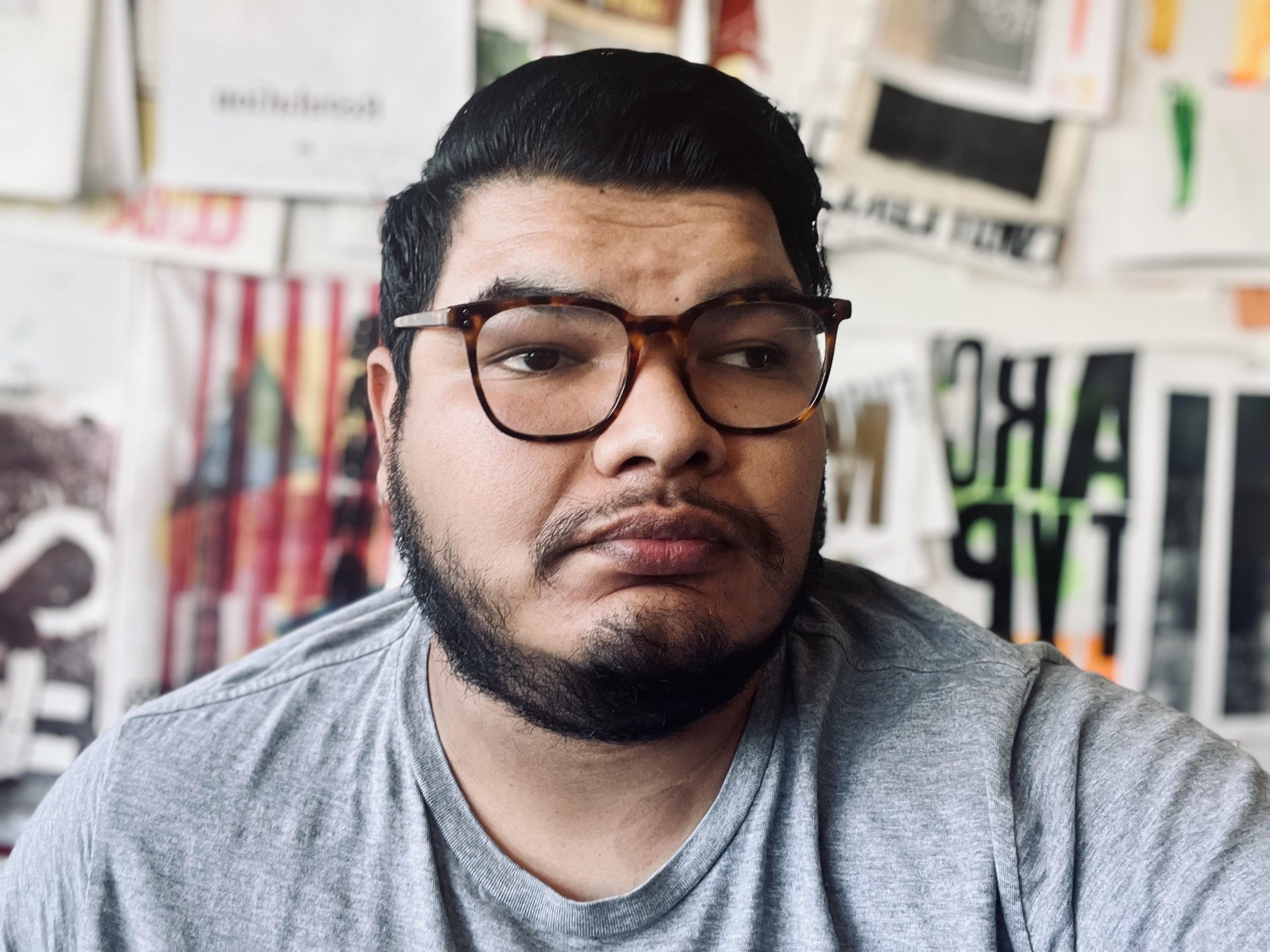 Joshue Molina and Gloria Kondrup teaching Typographic terms &c: Kerning or Letterspacing? Joshue is a visual artist and designer of Salvadorian descent, born and raised in South East Los Angeles. He earned a BFA in Photography and Digital Imaging from Art Center College of Design and a Master of Fine Arts in Graphic Design from Otis College of Art and Design. As an HMCT staff member, he works both in the South Campus Gallery and Archetype Press. In addition, he is an instructor for the Graphic Design department at ArtCenter. The power of imagery has always been a fixation for Joshue; this innate focus has facilitated his creative growth. While his practice is image-based, it encompasses a range of processes in photography, printmaking, and design. The methodology for his work is labor-intensive, which allows him to slow down, leaving space for experimentation. For Joshue, analog is a way to reconnect, not only with his work but with the ordinary.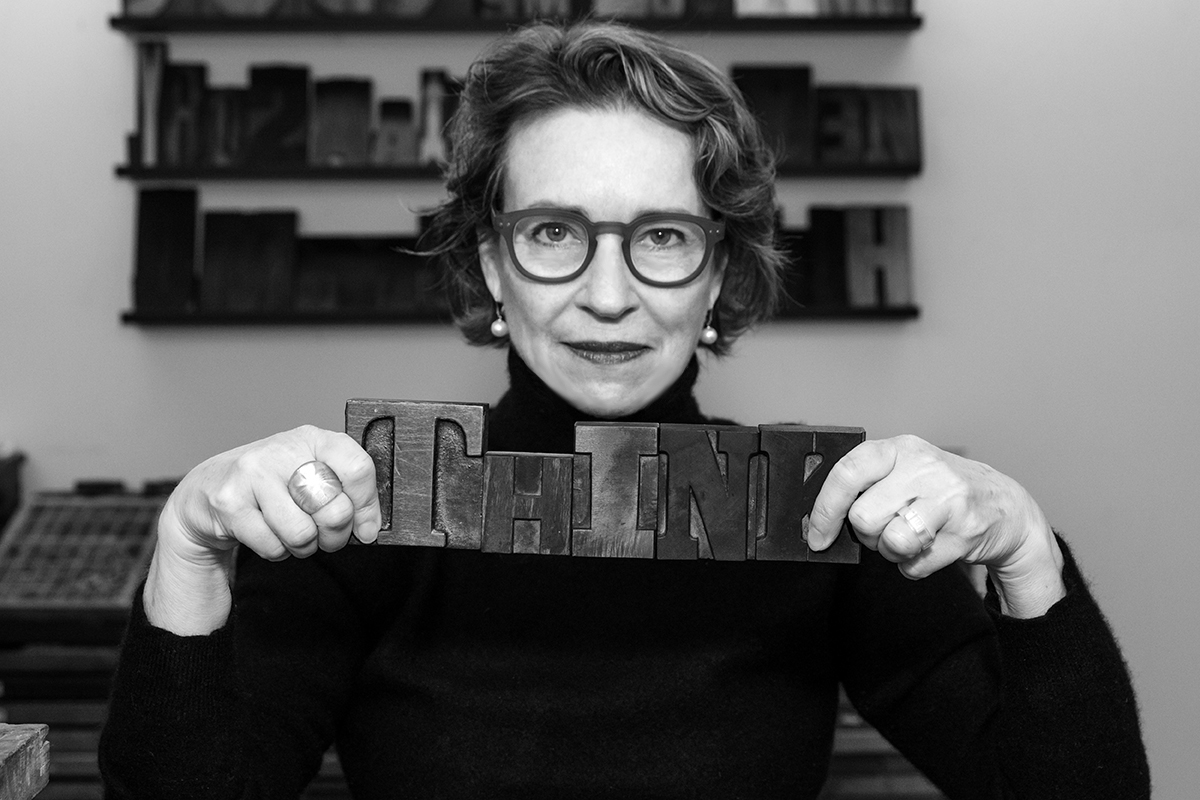 As a professor at ArtCenter College of Design, Gloria Kondrup has been a design educator for over three decades, and as the Director of Archetype Press, ArtCenter's vibrant letterpress studio, she redefined the value of typography and analog technology in the digital landscape. Gloria currently serves as the founding and Executive Director of the Hoffmitz Milken Center for Typography [HMCT], that furthers the advancement and study of typography through its educational programs, student scholarships and awards, educator grants, and fellowships. Her fine art and limited-edition books are in collections including The Getty and the Sackner Archive of Concrete and Visual Poetry. She has a BA in fine art and an MFA in design, and currently serves on the board of Association Typographique Internationale [ATypI].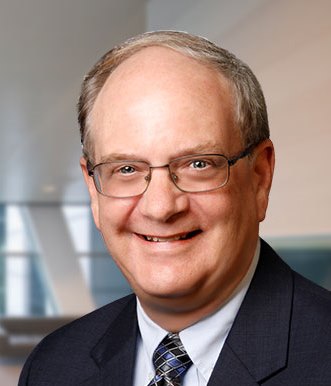 Mark Sableman presenting Copyright and the Letterpress Printer: Mark is a partner with Thompson Coburn LLP in St. Louis, Missouri. His law practice focuses on media, Internet, technology and intellectual property law, and he co-authors blogs on Internet law and on copyrights and photography. He is author of the book More Speech, Not Less: Communications Law in the Information Age, and more than 20 law review articles and book chapters. Mark has been listed in Best Lawyers in America since 1996, and is currently listed for intellectual property litigation and media, First Amendment, advertising, copyright, and trademark law.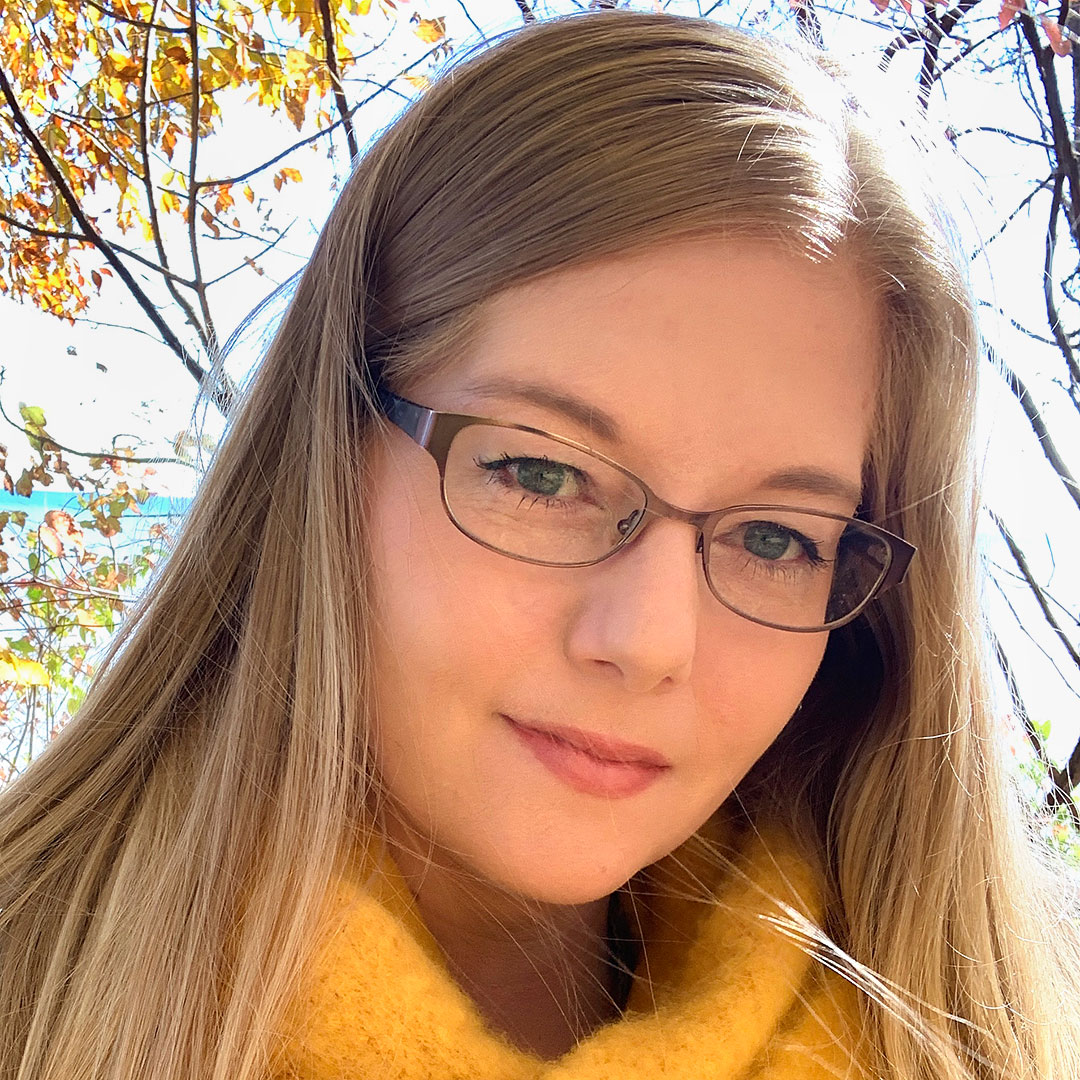 Stephanie Carpenter teaching Blizzard Books! Stephanie Carpenter is a graphic designer, letterpress printer, and educator. She is the Program Officer at the Hamilton Wood Type & Printing Museum in Two Rivers, Wisconsin. She makes unique and limited-edition prints, books, and installations that incorporate letterpress printing and sculptural elements. She graduated with her MFA from Indiana University, Bloomington, Indiana.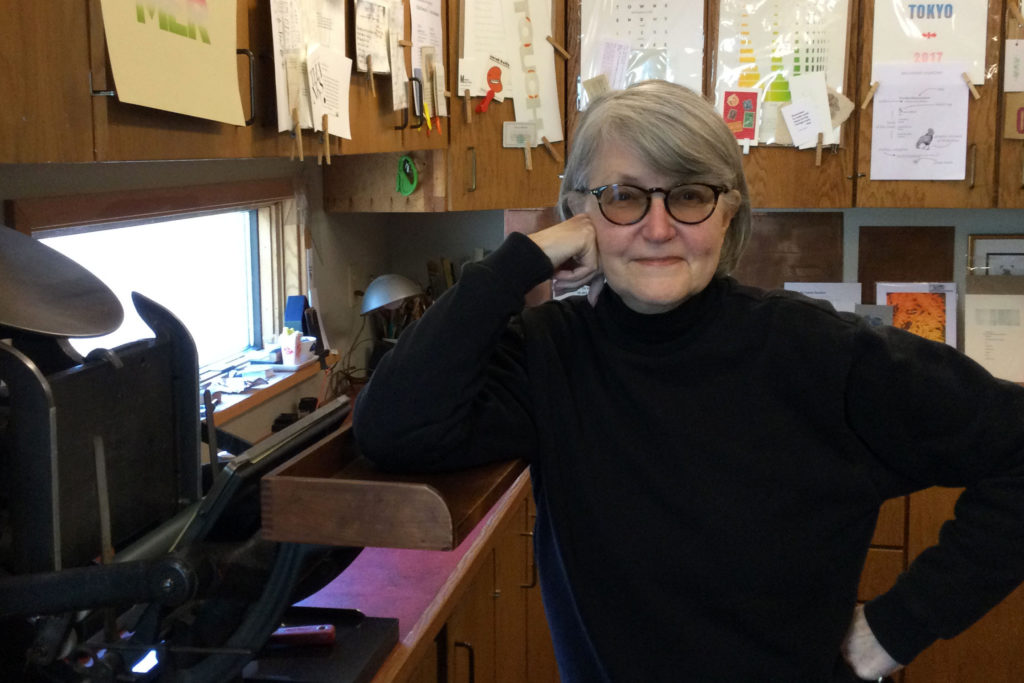 Ellie Mathews teaching When Poems are Suitable for Framing: Ellie has printed broadsides for Copper Canyon Press, an independent poetry publisher that believes poetry is vital to language and living. They publish the work of emerging poets, translators, classical, and contemporary poets including Pablo Neruda, Octavio Paz, former Poet Laureate Ted Kooser, Theodore Roethke, and recipients of Pulitzer Prizes and National Book Awards. Mathews also works with local poets in the Puget Sound area, where she lives. About 80% of her shop time is dedicated to designing and printing poetry broadsides; the rest of the time she cuts loose. She and her partner, Carl Youngmann, have taught a variety of in-person workshops on nuts-and-bolts letterpress techniques.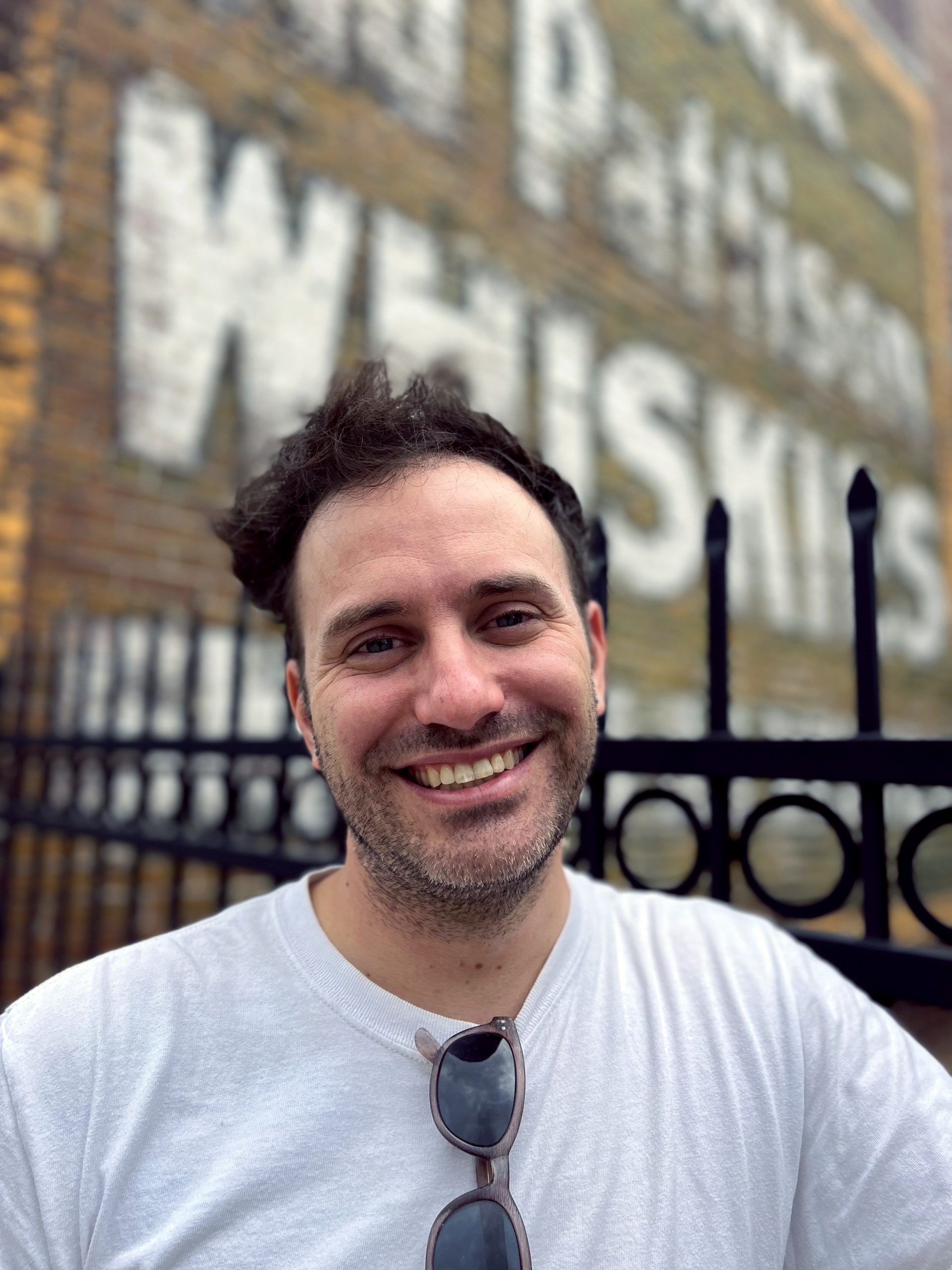 Timothy Maddox teaching Intro to Sign painting: Timothy enthusiastically began his hands-on study of sign painting in 2012, mostly through reading historic trade manuals and textbooks while practicing line after line of lettering on a large roll of butcher paper. Today he operates a commercial sign business, Mighty Fine Signs, in St. Louis, Missouri. Research, study, and practice remain paramount to his enjoyment and involvement in the trade. He is passionate about the study and teaching of sign painting, both in historical review and contemporary practice.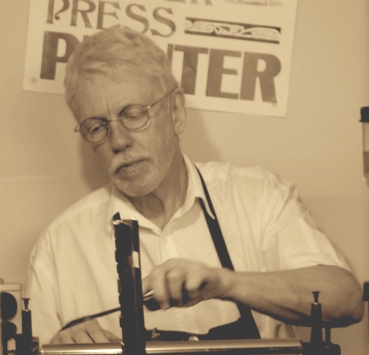 Graham Judd teaching from New Zealand Printing Solids on an Albion Handpress! Graham grew up in a small printing company in rural New Zealand learning on Heidelbergs, and got an all round training on the workings of a letterpress printshop. In recent months he has had two print jobs that required solid printing that he couldn't achieve on his windmill. After having good success with them on his Albion press Graham thought there may be others who work hand inked presses and might be interested in seeing how he approached printing a large solid. If you love him as much as he loves all you, then you'll be signing up quick to this class. After all it'll just be late afternoon tea time for you, whereas he'll be dragging himself out of bed for you!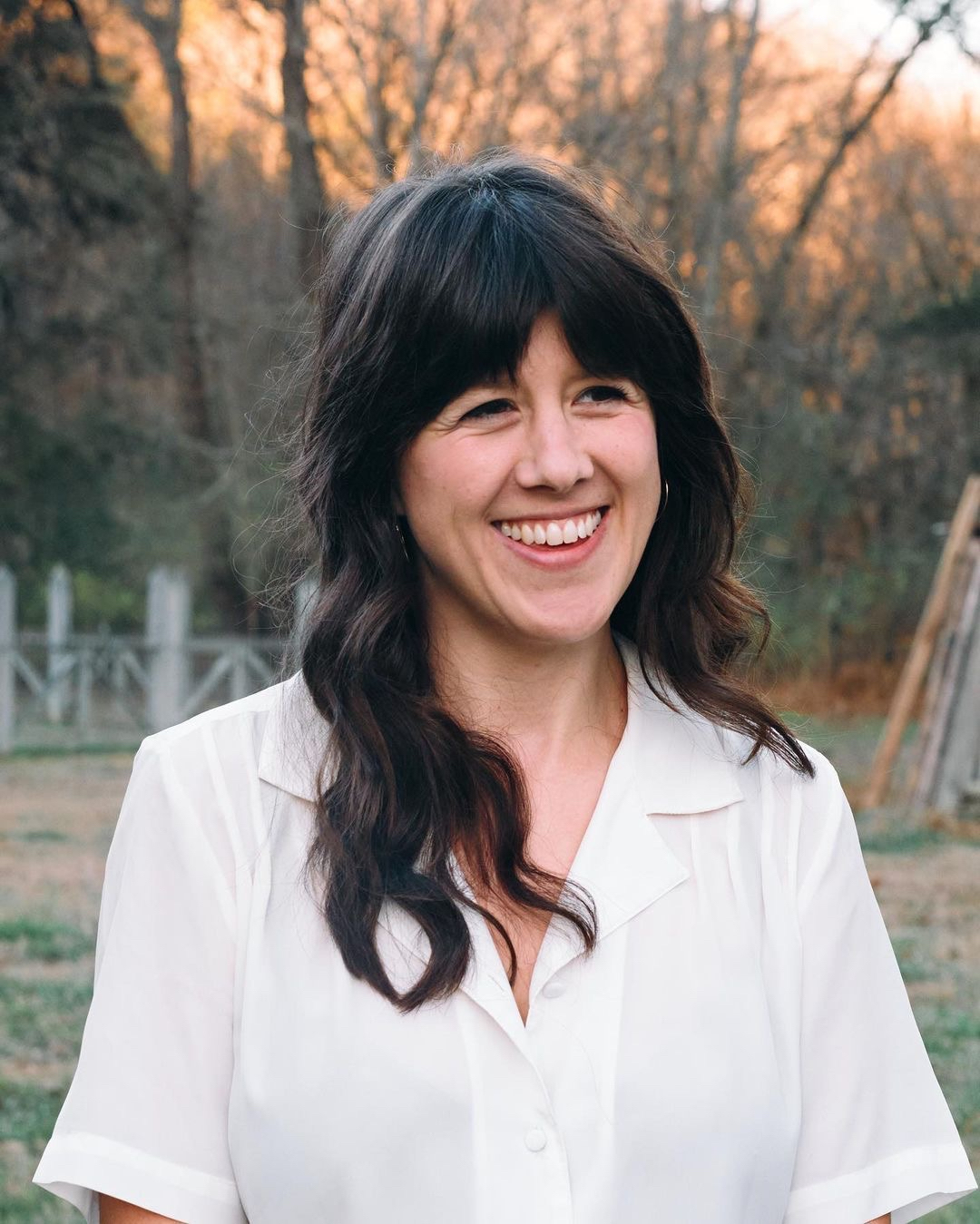 Laura Baisden teaching Linocut Reduction and Registration: Laura is an artist and designer in Nashville, TN. She works with the music industry to create custom letterpress posters, combining her unique illustration style with traditional letterpress type. As the owner and operator of Camp Nevernice, she creates beautifully printed art using hand-carved linoleum, antique type and a Vandercook cylinder press. Her personal work is whimsical and nature inspired with influences from traditional children's book illustration and her love of the world outdoors. Her printing experience started in college at Cleveland Institute of Art, where she studied as an illustrator and printmaker. Letterpress was first introduced during her internship with Bryce McCloud (Isle of Printing) and her skills were more finely honed during her 5 years working as a printer and designer at Hatch Show Print.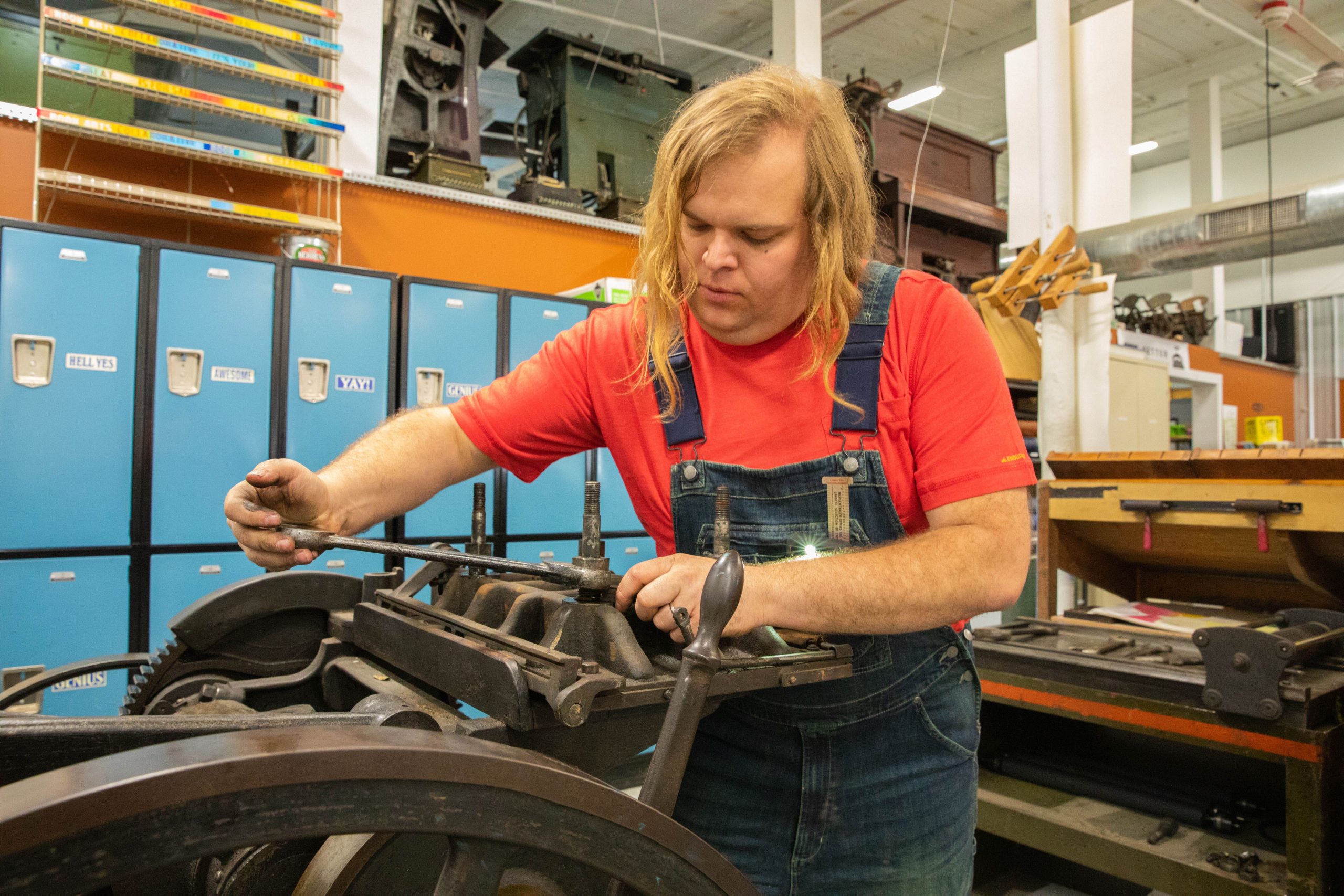 Rob Miller teaching Letterpress Electric! Rob Smash!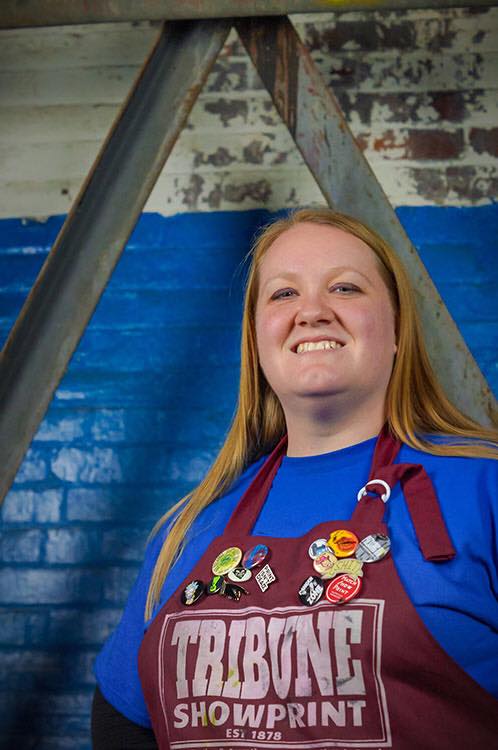 Kim Miller presenting The Story of Tribune Showprint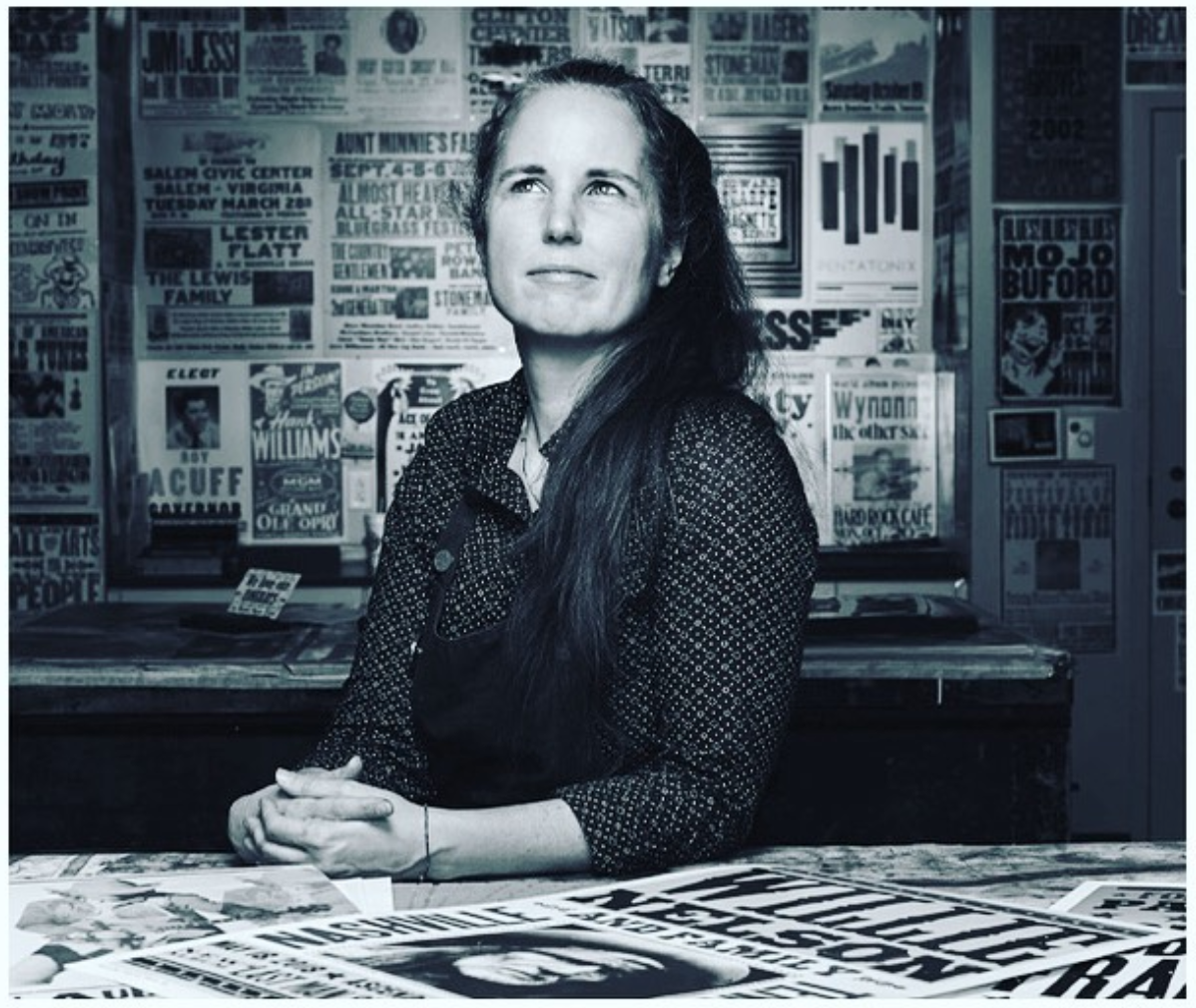 Celene Aubry is the Director and Shop Manager at Hatch Show Print, the iconic letterpress print shop continuously operating since 1879 in Nashville, Tennessee. While the business thrives as a letterpress poster and design shop, expanded programming includes a visiting artist program, a gallery showcasing print-centric art, and offering hands-on tours and workshops from the education space. Her personal work is a mixture of letterpress printing, and photographic printing, specifically cyanotype and van dyke. Threads of socially and environmentally aware themes consistently drive or appear in her work and projects. She has taught letterpress printing at Lillstreet Art Center in Chicago, IL, and letterpress and relief printmaking workshops at colleges and other printing-history related organizations.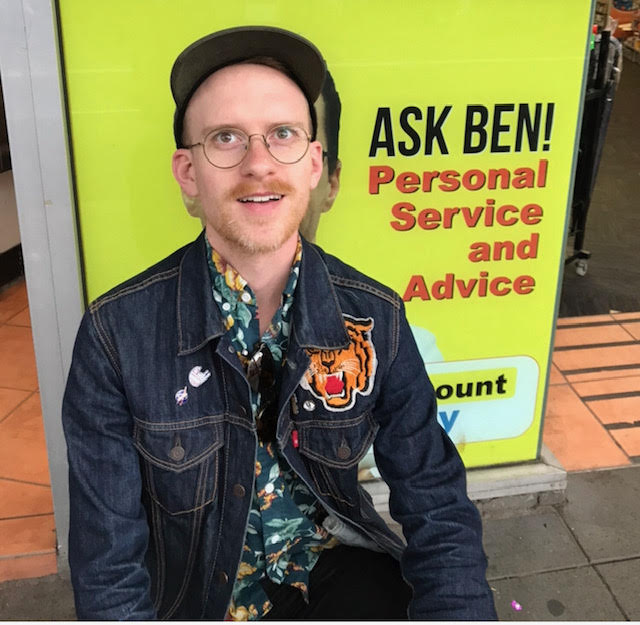 Ben Jones teaching O Shit, Heidelberg and Advanced Heidelberg Maintenance: Benjamin is a reluctant artist living in Kansas City. He runs letterpress machines for his day job. In the before times he would travel to fix and train people, primarily on Heidelberg platen and cylinder presses.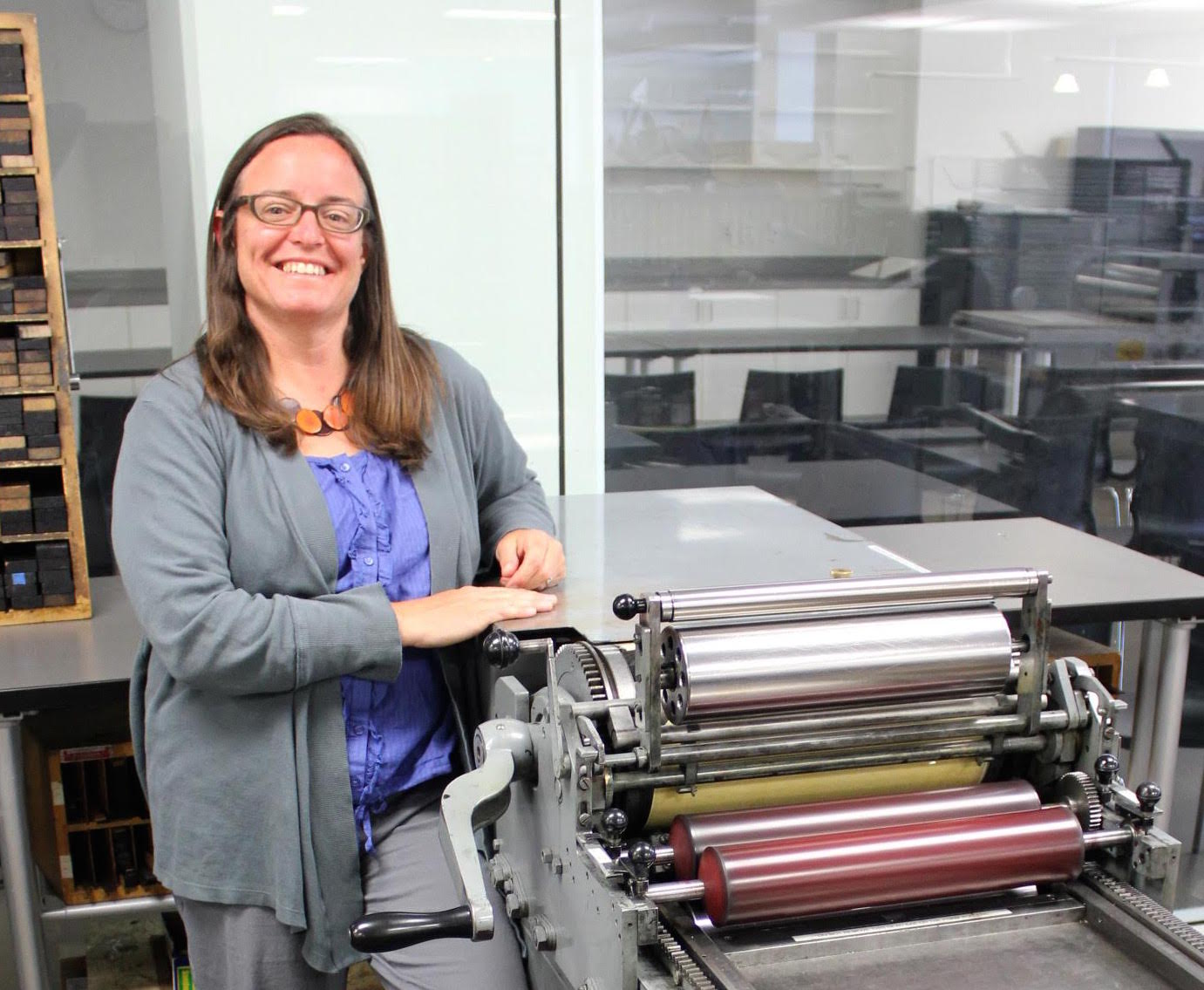 Marnie Powers-Torrey teaching One-Sheet Books: Marnie holds an MFA in Photography from the University of Utah and a BA in English and Philosophy from Boston College. Marnie is a Librarian at the Marriott Library where she serves as Director of the Book Arts Program & Red Butte Press. She is the faculty mentor for book arts designations and teaches letterpress, bookmaking, artists' books, and other courses for the Book Arts Program and elsewhere. Marnie identifies primarily as a book artist, and her book work is held in collections nationally.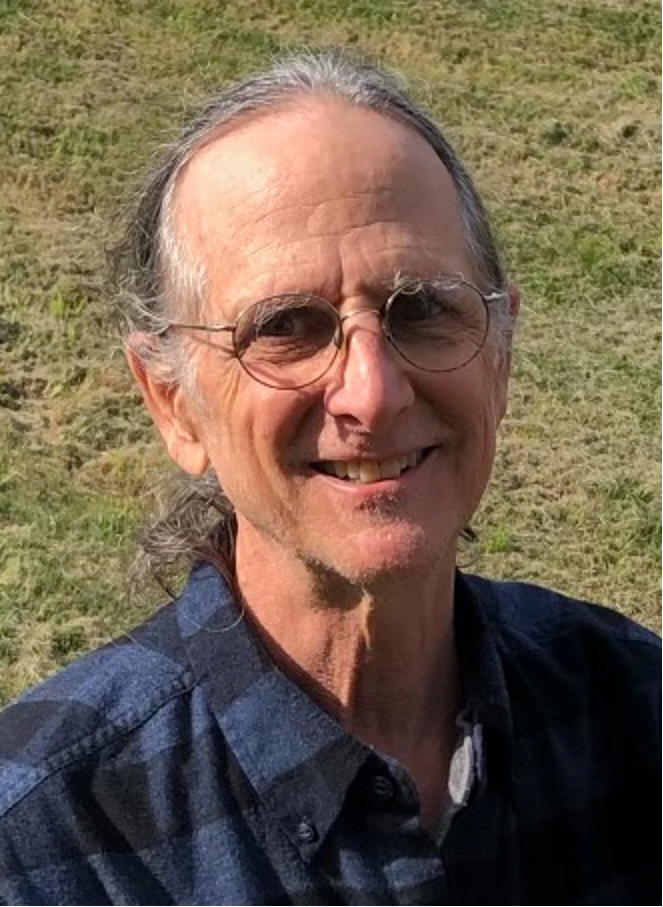 Greg Mitchell teaching Letterpress Printing on Tea Towels: Greg fell in love with letterpress when he took a workshop in 2015 to learn how to print his hand-drawn map greeting cards. The next year he retired from his full-time job as the director of the GIS/Mapping department and got more serious about drawing and printing maps. In addition to greeting cards and prints, Greg started experimenting with printing on cloth using his large sign press. The tea towels he made were handsome, legible, durable, and sold well. He has since printed over 1000 of them in about a dozen different designs.